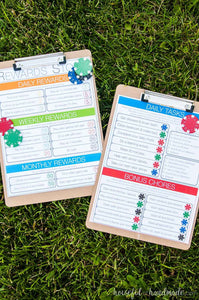 Custom Kids Chore Chart for Token System
Help your kids learn responsibility and earn rewards with this amazing chore system that really works. See our post here on how the system works here: https://craftingmyhome.com/printable-kids-chore-system-works/. 
There are two options: an editable PDF or a custom formatted printable.
For the editable PDF: there are spaces for you to add your own chores, daily tasks and rewards in a PDF reader. The tokens are all dark gray but you can add your own values. You can type your own description for the following (the colors and number of spaces cannot be changed):
7 Daily Tasks
Mon-Sat Daily Chores
10 Bonus Chores
6 Daily, 8 Weekly and 4 Monthly Rewards
Token Values
For the custom formatted printable: you can choose your own number of chores, daily tasks and rewards. After purchase, an editable PDF will be available for you to download to put in all your specifications. Then you will email it back to me for me to complete the custom formatting. Please allow up to 72 hours for delivery of completed custom PDF. You get to decide all of the following:
Up to 8 Daily Tasks
Up to 7 Daily Chores
Up to 10 Bonus Chores
Total of up to 18 Daily, Weekly and Monthly Rewards
Token colors and values
--
You are purchasing the digital files only, NO PHYSICAL PRODUCT WILL BE SHIPPED
No refunds or returns on digital files. 
---
We Also Recommend